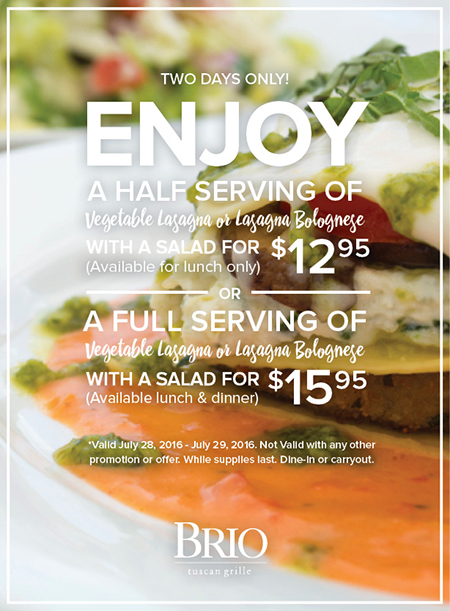 As one of the world's favorite pastas, lasagna certainly deserves to be celebrated on not one, but two days. This year, BRIO Tuscan Grille locations across the nation will commemorate National Lasagna Day on Thursday, July 28 and Friday, July 29, with delectable lasagna dishes, specially priced for this delicious holiday.   
During lunch on July 28 and 29, guests can enjoy the following chef-inspired creations for only $12.95, normally priced at $15.85 with a salad:
- Half Mama's Lasagna Bolognese, featuring authentic Bolognese meat sauce, Alfredo, ricotta and Mozzarella  
- Half Roasted Vegetable Lasagna with ricotta, spinach, Romano crusted eggplant, Crimini mushrooms, roasted red peppers, Mozzarella, Marinara, Alfredo and a pesto drizzle.
Each will be served with a choice of BRIO Chopped Salad, Bistecca Insalata or Caesar Salad.
Offered all day on July 28 and 29 are the following dishes, priced at only $15.95, normally priced with a salad at $23:
- Full-size Mama's Lasagna Bolognese, featuring authentic Bolognese meat sauce, Alfredo, ricotta and Mozzarella
- Full-size Roasted Vegetable Lasagna with ricotta, spinach, Romano crusted eggplant, crimini mushrooms, roasted red peppers, Mozzarella, Marinara, Alfredo and a pesto drizzle
Valid July 28 – July 29