View Store Directory:
---
or view all stores:
or view printable directory:
100 Montaditos
100 Montaditos was founded in 2000, near the spanish southern city of Huelva. Recreating the atmosphere of a traditional 19th century tavern from Spain, the restaurant specialized in montaditos, crunchy rolls from Spain baked to order and jam-packed with traditional ingredients as Jamón Serrano, Tortilla española, Chorizo and Manchego cheese. 100 Montaditos is not only a place where you can enjoy the best flavors from Spain, but also, hang-out and have some drinks with friends and family in an exciting environment, tasting beer from Spain or other typical thirst-quenchers, including red and white wines and sangrias.
Phone: 561.249.2444 / View Directory Map
---
4D Gelato & Italian Gourmet
Come visit ITALY Fast Quality Food for a taste of genuine Italian food, right here in the comfort of South Florida. Located directly in front of the CityPlace fountains, you can dine with us and enjoy the best of CityPlace's shopping and entertainment!
Phone: 561.655.1241 / Location: On the Plaza / View Directory Map
---
Auntie Anne's Café
Salty, savory, sweet or tangy, Auntie Anne's pretzels are rolled by hand, baked to a golden brown, and never kept longer than 30 minutes!
Phone: 561.659.3825 / View Directory Map
---
Blue Martini
Blue Martini West Palm Beach is known as the hottest, upscale spot in the city. A beautiful atmosphere mixed with beautiful people can only mean a beautiful experience when you come to Blue Martini Blue Martini features the best in Live Entertainment and has an enviable reputation of offering over 42 savory signature martinis, crafted cocktails, fine wines and spirits plus delicious light bite dishes that are sure to please.

The red and blue-lit atmosphere tantalizes and consistently enthralls partygoers with three uniquely different experiences for high-energy crowds. It's a definite hot spot for after work cocktails with the legendary 'Happy Hour' where incredible discounts are offered on the entire menu. Blue Martini offers a casual patio vibe, front and center stage with live entertainment or the chance to grab an exclusive spot in the VIP lounge. Blue Martin West Palm also offers an exceptional catering experience for private parties, functions and unique events throughout the year. There is always 'Something new at Blue!'

At Blue Martini, we take pride in offering only the very best service for all of our guests. From the moment you walk through the door until the moment you leave, you will be completely satisfied with what Blue can offer you!
Phone: 561.835.8601 / Location: Upper level on the Muvico IMAX Plaza / View Directory Map
---
BRIO Tuscan Grille
Brio Tuscan Grille is a casual, white tablecloth restaurant serving northern Italian cuisine.
Phone: 561.835.1511 / Location: Rosemary Avenue across from the Harriet Himmel Theater & Macy's / View Directory Map
---
Cheesecake Factory
The Cheesecake Factory serves much more than just cheesecake! We are a unique, upscale casual restaurant offering more than 200 menu selections including Appetizers, Specialty Salads, Pastas, and Pizzas, as well as great Steaks and Chops, Fresh Fish, and Sandwiches. Be sure to save room for one of our 50 delicious cheesecakes and desserts with a cappuccino or latte. At The Cheesecake Factory, there is truly "Something for Everyone"!

Enjoy our high-energy atmosphere daily, serving Lunch, Dinner, Late Night Dining, a Full Bar, and Sunday Brunch. For your convenience, we also offer our entire menu for Take Out.

Online Menu
Phone: 561.802.3838 / Location: Corner Rosemary Ave. and Hibiscus St. / View Directory Map
---
City Cellar Wine Bar & Grill
Step inside the large dining room featuring a floor to ceiling glass enclosed wine cellar. City Cellar possesses a huge award winning wine collection that can be sampled by the bottle, glass or "flight". The varied menu has delicious hearth baked pizza, dry aged steaks, fresh pasta and seafood. A small plates menu is offered featuring a daily flatbread, lobster mac 'n cheese and other daily specials. A rotating menu of hard to find artisanal cheeses is available as well. Desserts are all enticing, all house made and all very tasty. Outdoor dining is available overlooking the beautiful fountains of City Place. Cocktails and craft beer are available at our indoor bar or outdoors at Iggy's bar.
Phone: 561.366.0071 / Location: Upper level above the Plaza / View Directory Map
---
City Pizza
City Pizza is your neighborhood Italian restaurant & Pizzeria. For the last 10 years, we have been serving you the best NY style pizza in town. We use only the freshest ingredients to create our authentic Italian dishes.
Phone: 561.833.2323 / Location: West on Hibiscus St. / View Directory Map
---
Copper Blues Rock Pub & Kitchen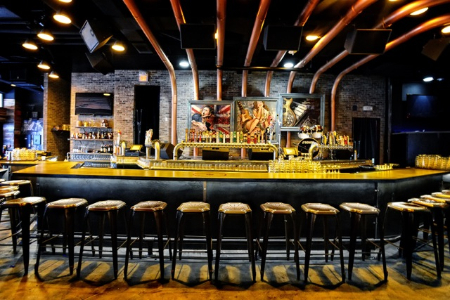 Copper Blues is all about enjoying great music, beer and food. A place to make memories and live the good life every time you step in the door. Copper Blues features a stage for live music, beer garden & over 60 beers on tap. We have a little something for everyone; craft beer, specialty cocktails and elevated bites to share. From our popular 7 days a week happy hour to late night and everything in between, come feed your souls with goodness!

Want to make it a party? Contact Iris Testiler at iris@copperblueslive.com for your next Group Event!
Location: Upper Level on the Muvico IMAX Plaza / View Directory Map
---
Diva Duck
I'm a Bus! I'm a Boat! I'm Diva Duck! South Florida's Exciting and Adventurous Amphibious Tour, over Land and Sea! Your 75-minute, fully narrated, musical tour begins at City Place in Downtown West Palm Beach. Experience the thrill of riding up HIGH through the beautifully transformed Historic Neighborhoods, past the New Palm Beach County Convention Center, then across the bridge to the Island of Palm Beach. Past such sights as the Society of Four Arts, Bethesda-by-the Sea Episcopal Church, the Breakers Hotel, the Flagler Museum and the Biltmore Estates. Then, "SPLASH" into the crystal blue calm water for a relaxing and entertaining cruise on the Intracoastal Waterway. View the spectacular mansions and yachts of Palm Beach from the water, see the site of the J.F. Kennedy Bomb Shelter at Peanut Island while enjoying the informative narration from our lively tour guide and Captain. Let's all say, "QUACK, QUACK!" Your Tour Guide and Captain will take you where no other tour has gone before! Tour Route subject to change.
Phone: 561.844.4188 / Location: Corner of Rosemary & Hibiscus Street. Next to the Harriet Himmel Theater. / View Directory Map
---
Il Bellagio
Located at the base of the historic cultural arts center in City Place, IL Bellagio captures the experience of dining in an authentic Italian "piazza." Directly facing the spectacular courtyard fountains, the restaurant serves authentic Italian cuisine in a casual, vibrant atmosphere. Contemporary interior design is highlighted by a deep emerald granite bar accented by cherry woods, and a pecky cypress pergola with trompe I'oeil ceiling mural.
Phone: 561.659.6160 / Location: On the Plaza / View Directory Map
---
Improv Comedy Club and Dinner Theatre
The World Famous Improv comedy clubs have been the launching pad for the biggest names in comedy for more than four decades and the Palm Beach Improv has been a huge part of that success since opening its doors in 2001. Improv fans and new comers alike can expect amazing food and a first-class comedy experience in a beautiful club with the same charm loyalists had come to love! The Palm Beach Improv is excited to continue its legacy as South Florida's #1 comedy destination! You can also make it a private affair… We are now booking holiday parties for December 2014! Our Party Packages can be tailored for any occasion -Daytime Meetings -Luncheons -Fundraisers -Birthday Celebrations -Networking Events -Full Club Buy-Outs

For more information on Group Sales & Events contact Iris Testiler at iris@palmbeachimprov.com For more information on hosting your next Fundraiser contact Dominique Hirschel at dominique@palmbeachimprov.com
Phone: 561.833.1812 / Location: Upper level on the Muvico IMAX Plaza / View Directory Map
---
Jamba Juice - Opening soon
Inspiring and simplifying healthy living with Smoothies, Fresh-squeezed Juices, Wheat Grass and Ginger shots, Slow-cooked, steel-cut oatmeal made with 100% organic oats, Healthy baked goods, Immortality. Wait – we don't actually offer immortality per se, but we can make your feel pretty freaking healthy and that's why we love to make smoothies and other healthy things fun – we dig making your taste buds uncontrollably happy.
View Directory Map
---
Mellow Mushroom
Mellow Mushroom CityPlace is proud to serve West Palm Beach with delicious pizza, hoagies, calzones and salads. Providing quality food since 1974, we use fresh ingredients on all our menu items. Mellow Mushroom is more than just a pizza restaurant; it is where West Palm Beach pizza lovers and beer lovers gather. Our menu and locations are as eclectic as our fans. Join the beer club, shop our Mellow shirts and see the unique artwork in each of our locations. The search for the best pizza in West Palm Beach is over. We offer 60 beers on draft and delicious fresh cocktails. We have live music weekly on our large outdoor patio. Stay mellow and we will see you soon!
Phone: 561.653.1351 / Location: South end of CityPlace / View Directory Map
---
Moe's Southwest Grill
Moe's Southwest Grill is a fun engaging fast – casual concept serving a wide variety of fresh, made to order southwest fare
Phone: 561.659.0361 / Location: North end of CityPlace on Rosemary Avenue. / View Directory Map
---
Mojito Latin Cuisine & Bar
MOJITO Latin Cuisine and Bar offers a wide variety of hot and cold appetizers. In selected bars in Spain, tapas have evolved into an entire, and sometimes sophisticated, cuisine. In Spain, patrons of tapas can order many different of them, and combine them in such a way to make a full meal. In some Central American countries, such snacks are known as "bocas". Here in MOJITO we combine Spanish, Mexican, Cuban, and Peruvian cuisine with a Mediterranean twist. MOJITO serving of tapas is designed to encourage conversation. For all our MOJITOS we use fresh mint from our garden and fresh fruits delivered to us daily. Enjoy and relax, it doesn't get better than this!
Phone: 561.832.6888 / Location: Upper level above the Plaza / View Directory Map
---
Muvico IMAX Theater
First hour is FREE before 10pm. Muvico IMAX patrons receive an additional 3 FREE hours of parking. Self-validation system is located inside Muvico IMAX. *Valet is excluded.

Don't forget to take your parking ticket with you!
Click here to view upcoming show times.
Click here to view todays show times.
Phone: 561.833.2310 / Location: Upper level Plaza / View Directory Map
---
Pampas Grille
We invite you to dine at your own pace. We will begin with our buffet bar that has mountains of garden fresh produce and traditional Brazilian items. The feast will continue with our endless parade of meat, carved tableside. Our wide variety will be sure to please all members of your party. We have an exceptional wine selection to accompany your meal. Sit back, relax and enjoy your experience.
Phone: 561.444.2147 / Location: ½ block west of Rosemary Ave. / View Directory Map
---
Panera Bread
Fresh baked bread is the centerpiece of every meal, from sandwiches and salads to hearty soups in sourdough bread bowls.
Phone: 561.515.3773 / Location: Plaza level across from Muvico IMAX / View Directory Map
---
Revolutions – Bowling. Sports Bar. Grille.
This 35,000 square foot luxury entertainment facility is placed right in the heart of West Palm's City Place. Featuring contemporary American cuisine, a high energy bar atmosphere, the Stadium sports amphitheater, 20 boutique style bowling lanes and a full redemption video arcade. Revolutions at City Place will be your destination for hottest nightlife in South Florida with live entertainment and the best sports viewing around!
Phone: 561.203.6188 / Location: North end of CityPlace / View Directory Map
---
Ruth's Chris Steak House
Ruth's Chris steakhouse is famous for its exceptional food and wine. The restaurant serves the best USDA prime steak, always sizzling hot.
Phone: 561.514.3544 / Location: Corner of Okeechobee Blvd. & Sapodilla Ave. / View Directory Map
---
Saito's Japanese Steakhouse
This Japanese steakhouse has an enormous variety of sushi, sashimi, temaki, hosomake and house special rolls, as well as lobster, shrimp, scallops and calamari. The hibachi chefs slice, dice and toss some of the most succulent Kobe beef and filet you ever put in your mouth, along with chicken and even ostrich. Come and enjoy an authentic Japanese dinner while overlooking the beautiful fountains of City Place in West Palm Beach, Florida.
Phone: 561.296.8881 / Location: Upper level above the Plaza / View Directory Map
---
Sweet Ginger Asian Bistro
At Sweet Ginger Asian Bistro, we have something for every taste. Whether you are on a health kick, a vegetarian, or just your average carnivore, our monster selection will satisfy your craving!
Phone: 561.832.8883 / View Directory Map
---
Tequila Cowboy Bar & Grill
We're bringing the "Music City" to you! No matter your reason for visiting, we are confident our lively country & rock-n-roll atmosphere is so contagious; you will be coming back for more. There are no boundaries in this open range. Located next to Brio, and Blue Martini in City Place, Tequila Cowboy is an attraction for locals and tourists alike. Operating as both an evening venue with national country music acts for entertainment and full-service restaurant featuring our original line of finger licking BBQ, mouth-watering prime rib, gourmet flat bread pizzas, fresh guacamole cart, & southern light fare tapas, we offer a unique experience through dining and a revved-up nightlife. From t-shirts to suits, and fun-seekers of all ages, anyone will find a reason to have a good time.
Phone: 561.249.2749 / View Directory Map
---
Thai Jo by Sushi Jo
What is more unusual than an American sushi chef? Born and raised in Miami, Jo Clark started working in restaurants at the age of 13. He served his sushi apprenticeship for a decade at Yama in Lake Worth, where he worked with chefs from different parts of Japan. He opened his first Sushi Jo at The Ritz-Carlton in Manalapan, and now has three locations in the area. When it comes to the food, Chef Jo Clark cuts slices of pristine tuna, salmon, flounder, Japanese snapper and hamachi (yellowtail), arranging them artistically on a platter. For the roll, he cuts a European cucumber into paper-thin slices, assembling it to resemble a piece of seaweed. He layers the interior with king crab, salmon, cream cheese, and both black and orange tobiko (caviar), then garnishes the roll with sesame seeds and sweet rice-wine vinegar.
Phone: 561.832.3545 / Location: Upper level across from Muvico IMAX / View Directory Map
---
Village Gourmet Cheese Shoppe - Opening Soon
Known as the spot for cheese in the Hamptons, Village Gourmet Cheese Shoppe offers so much more than just cheese: delicious signature sandwiches, chopped salads, fresh fruit smoothies, amazing party platters and gift baskets.
Location: Opening Soon / View Directory Map
---
WannaB's Karaoke
Let your hair down, grab a microphone and show everyone how karaoke is really done at Wanna B's Karaoke Bar, West Palm's newest fun spot. Whether you're bar hopping with friends or having a memorable first date, Wanna B's is without a doubt the most fun you'll have in West Palm Beach. Come for the drinkin', stay for the singin'! Stop in for a drink and stay for the awesome tunes! Hunkered down next to Tequila Cowboy's, its sister establishment, Wanna B's Karaoke Bar is an experience unlike any other. With over 200,000 songs to choose from, two stages and a full-service bar, one thing's for sure: You'll never have to search for things to do again! 200,000 songs to choose from so you can give the performance of a lifetime. No need for chunky songbooks, either! Just go up to the KJ booth, write down your name and your song of choice, and let the games begin. Who knows? You may even get discovered!
View Directory Map
---