CityPlace Events
Snow Day
Saturday, November 30th from 11am – 4pm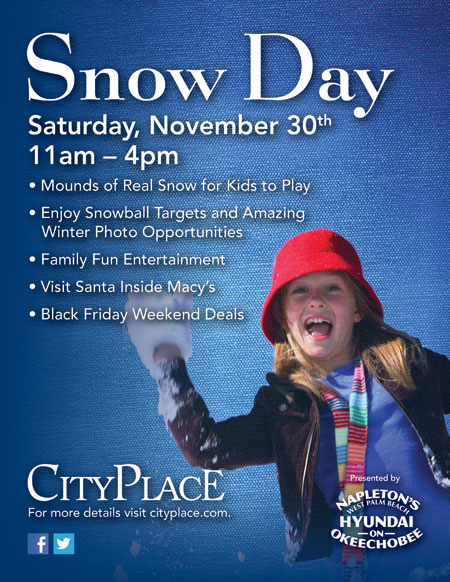 Experience a true Snow Day at CityPlace on Saturday, November 30th from 11am – 4pm. With mounds of real snow for kids to play in, build a Snow Man or toss a snow ball. Also, get a jump start on your Holiday shopping with our amazing Black Friday weekend deals.
CityPlace Snow Day Details:
Bring appropriate clothing to play in the snow. H&M and Macy's will have coats, gloves, etc.
When you arrive at CityPlace Snow Day you will pick up a play pass at the Snow tent located next to Panera Bread.
The play pass will have a time telling you when your child can enjoy the snow. If you miss your designated play time you can get back in line to get another play pass.
Children will have approximately 15 minutes to play on the snow.
Space is limited so please come early and the passes will be distributed on a first come first served basis.
Don't worry … we have plenty of things for your children to enjoy while waiting for their time to play in the snow!
o Amazing Black Friday weekend deals
o Take a train ride ($3 per ride)
o Meet Santa Claus inside Macy's
o Enjoy a performance by School of Rock
o See a magician and more family entertainment!